Parallels 11 With Windows 10 to Allow Mac Users to Access Cortana on OS X
When Windows 10 is released to the public later this week, Windows users will have desktop access to Cortana, Microsoft's virtual assistant designed to compete with Apple's Siri. It appears Mac OS X users may also be able to access Cortana on OS X, using an updated version of the Parallels Windows virtualization software. For those unfamiliar with Parallels, it's software that's designed to let you run Windows and Windows apps on your Mac.
According to a now-deleted leaked site that details upcoming features in Parallels 11, the software is gaining a new Windows 10 feature that will let Cortana be accessed on OS X while Windows 10 is running in the background.

As explained by Neowin, who shared the leaked site over the weekend, that means Cortana can be accessed with the "Hey Cortana" command while using other applications on the Mac. It is not clear if all of Cortana's functionality is available when run this way, but in Windows 10, Cortana has a wide range of useful features.
The virtual assistant can search the web, find installed files and apps, monitor calendar appointments, access the weather, and more. Like with Siri, Cortana can be asked fact-finding questions like "What are the latest NBA scores" or "What's going on near me this weekend?"
Announced last year, Cortana is a digital assistant named for an AI character in the popular Halo video game series and voiced by Jen Taylor, who also did the AI voice work. Cortana, which has a distinctly female personality, is powered by the Bing search engine and differs from Siri based on the ability to ask questions about users and monitor their activity to learn more about them.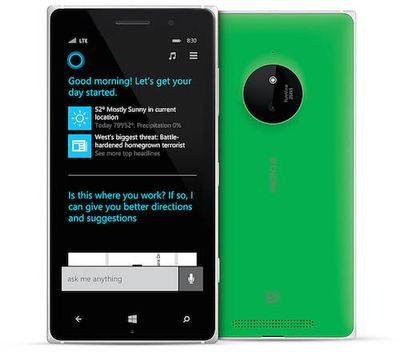 Cortana has a "notebook" that stores information on each user's interests, favorite places, preferred music, relationships with people, appointment dates, preferred quiet hours, and more. When Cortana debuted, Microsoft described this feature as "her view of you," designed to let Cortana perform functions a wide range of personalized functions.
While Windows 10 is set to be released this week on July 29, there is no word on when Parallels 11 with full support for Windows 10 and the new Cortana feature will launch. Parallels 10, the current version of Parallels, has been updated with experimental support for Windows 10 preview builds, but it is not currently compatible with the release version of Windows 10 or Microsoft's Windows 10 upgrade program.
In addition to being available on Mac OS X through Parallels 11, Cortana is also coming to the iPhone. Microsoft plans to
launch a Cortana app for iOS
later this year.