Microsoft Announces Siri Competitor Cortana, Coming With Windows Phone 8.1
Microsoft today announced Windows Phone 8.1, which comes equipped with the company's digital assistant, Cortana. In development for several years, Cortana is Microsoft's answer to Siri and Google Now, the digital assistants from Apple and Google.
Cortana is named for an AI character in the popular Halo video game series and as in the game, the assistant is voiced by actress Jen Taylor. Given a distinctly female personality, she is powered by Microsoft's search engine, Bing, and is designed to learn about users by asking questions and monitoring user activity, interacting through both text and speech.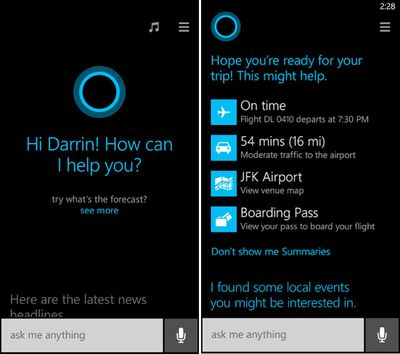 According to an extensive piece on Cortana from The Verge, Microsoft designed the feature based on real personal assistants, giving Cortana a "Notebook" to work from. The Notebook can be described as a settings page, allowing users to designate what Cortana can track. In her Notebook, Cortana stores information like personal interests, relationships with people, frequently visited places, appointment dates, quiet hours, and more.
"It's her view of you, but clearly you can just snatch it from her at any time and say 'That's not right, I don't want you to know this' or 'I'm not comfortable with you reading my email,'" explains Ash. "So you have complete control over what she knows and she's transparent about it."

Entries in the Notebook are stored in the cloud, and you can share contact information with it, as well as your interests, home and work locations, and more. The notion of Cortana acting as a personal assistant with a notebook— as opposed to a creepy stalker — has been drilled into the team from the beginning, they say.
Cortana is a core function of Windows Phone 8.1, replacing the existing search function. Like Siri she can schedule reminders, but Cortana's functionality is somewhat more powerful, allowing reminders to be tied to people and locations. For example, Cortana can be asked to give a reminder to discuss a certain topic when calling a contact, with that reminder popping up when a call is placed.
The digital assistant also offers a daily summary of information, similar to what can be found in Apple's own Notification Center. Cortana lists upcoming appointments, reminders, weather information, and more. She can, with permission, track user email to pull out information like airline reservations.
Like Siri, Cortana has a personality. She has witty responses for certain questions, such as "Who is your father?" to which she replies, "Technically speaking, that'd be Bill Gates. No big deal." Displayed as a circle on a phone screen, she's also able to express 16 different emotions.
While Siri has not been opened up to developers, Microsoft is releasing a third-party SDK. Cortana will integrate with services like Hulu, Twitter, Facebook, allowing people to use voice commands to launch television shows or send a tweet.
Cortana remains in the beta stages, as there are bugs with the software that still need to be worked out. Windows Phone 8.1 will launch in late April or early May, but Cortana will only be available in the United States for the time being.
Microsoft also announced that it is making Windows licenses free for mobile phones and tablets that have screens of less than nine inches, putting it on par with Google's Android, which is offered to device manufacturers for free.