MacBook Air and 13" Retina MacBook Pro Updated to Improve Speed and Battery Life
Following the announcement of the brand new line of MacBooks, Apple today revealed a slight update to its MacBook Air and 13-inch Retina MacBook Pro lines.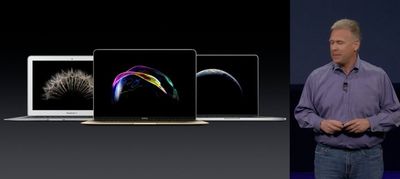 Both the 11" and 13" MacBook Air models will be upgraded to 5th generation Intel Core i5 and i7 processors, Thunderbolt 2, and Intel HD Graphics 6000.
Today the popular 13-inch MacBook Pro with Retina display, 11-inch MacBook Air and 13-inch MacBook Air all received significant upgrades," said Philip Schiller, Apple's senior vice president of Worldwide Marketing. "The 13-inch MacBook Pro has been updated with the latest processors, more powerful graphics, faster flash, longer battery life and the all-new Force Touch trackpad. We're also bringing the latest processors and graphics, and faster Thunderbolt 2 to the 11-inch and 13-inch MacBook Air, as well as up to two times faster flash to the 13-inch MacBook Air."
The 13" MacBook Pro will receive the brand new Force Touch trackpad introduced on the new MacBook today at the Spring Forward event. Other new additions to the Pro lineup include: 5th-gen Core i5 and i7 processors with Turbo Boost Speeds up to 3.4 GHz, 2x faster flash, "faster integrated" Intel Iris Graphics 6100, and an improved 10-hour battery life. There was no mention of an update to the 15" MacBook Pro line at today's event.
The updated MacBook Air and MacBook Pro lines can be purchased starting today on Apple's online store, Apple's retail stores, and various Apple authorized retailers.
Follow the rest of our March 2015 event coverage for the latest Apple Watch information.