Apple Watch Demand Slides Significantly in June as Launch Momentum Wanes
Apple Watch sales in the United States appear to have slowed down significantly in June based on new data that research firm Slice Intelligence shared with MarketWatch. Following a steep decline in the days after Apple Watch pre-orders commenced, which is to be expected of any product, daily U.S. sales remained relatively stable through May before experiencing a large drop-off last month as launch momentum begins to wane.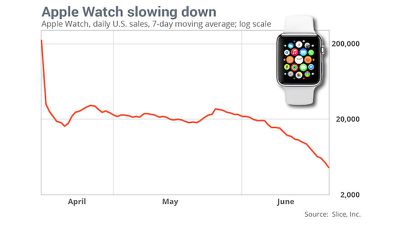 The report claims that Apple is now selling fewer than 20,000 watches per day in the United States, and fewer than 10,000 on certain days, while the logarithmic chart above indicates that sales dipped to as low as 4,000 to 5,000 units per day in late June. The data does not account for sales in Canada, Australia, United Kingdom or the twelve other countries where the Apple Watch is sold outside of the United States.
Slice Intelligence claims that two-thirds of Apple Watches sold to date have been the entry-level Sport model, far outselling the more expensive stainless steel Watch and 18-karat gold Edition models that start at $549 and $10,000 respectively. The research firm estimates that Apple has sold fewer than 2,000 luxury Apple Watch Edition models in the U.S. through June.
Slice Intelligence previously estimated 1 million Apple Watch pre-orders at launch, an average 30,000 Apple Watch sales per day in late May and an estimated 2.8 million total sales as of mid June. The research firm's sales estimates are based on e-receipt data from online shoppers in the United States that opted-in to have their inboxes tracked for email receipts.
Apple has not publicly disclosed any Apple Watch sales figures since the wrist-worn device launched in April, and will be grouping the device under its "Other Products" category, which combines sales of Apple Watch, iPod, Apple TV, Beats Electronics and accessories, in its quarterly fiscal reports. Apple's Q3 FY 2015 results are scheduled to be released on July 21 at 2:00 PM Pacific.