iOS 9 Files Hint at Front-Facing Camera Improvements With 1080p Video Support and Flash
Code hidden within iOS 9 files hints at upcoming iPhone improvements, suggesting Apple could potentially be planning to introduce a front-facing camera with flash support, the ability to capture 1080p video, and several rear-facing camera capabilities, like Panorama and Slo-Mo modes.
"CAMCaptureCapabilities" files in iOS 9 discovered by developer Hamza Sood have file names like "[CAMCaptureCapabilities isFront1080p120Supported]," which seems to refer to the front-facing camera on the iPhone. At the current time, the front-facing "FaceTime" camera is able to capture 1.2-megapixel photos and record 720p HD video.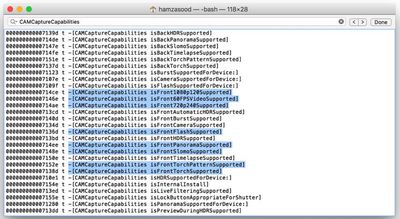 There's no indication that these particular file names reflect Apple's upcoming plans for the front-facing camera, but it's possible that these are improvements we may see in the future. The front-facing camera has always lagged behind the rear-facing camera in order to save space, but with the increasing popularity of "selfies," Apple may choose to introduce some major upgrades to the front-facing camera in the future.
Rumors have suggested that the rear-facing camera will be gaining some major improvements with the iPhone 6s and the iPhone 6s Plus, so it's a reasonable assumption that the front-facing camera may also see improvements at the same time. There have been hints suggesting the iPhone 6s and 6s Plus could see the biggest camera jump Apple's ever introduced, adopting near-DSLR image quality.
Apple did recently acquire a company that specializes in dual-sensor cameras that produce better images and are capable of capturing 3D imagery, but it is not known if that technology will make it into the new iPhones. Apple is expected to introduce the two new devices in the fall, perhaps in mid-September, based on past release timelines.