Apple Continues Decorating Moscone West for WWDC Ahead of Monday's Keynote
Each year ahead of the Worldwide Developers Conference, Apple puts up logos, signs, and banners across Moscone West in San Francisco, where the event is held. Decorations began going up on Tuesday, and work will continue throughout the weekend to prepare for Monday's keynote event.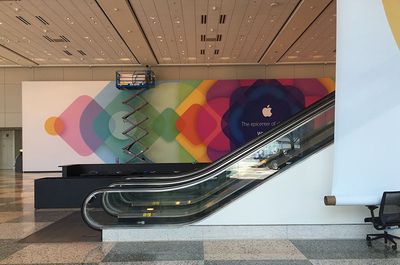 As of this afternoon, Apple has finished placing two Apple logos on the outside windows of Moscone West, and yesterday, the first interior banner went up. The initial banner uses the same graphic design elements that are present on the company's WWDC 2015 website, along with the tagline "The epicenter of change."


The next interior banners to go up may give us some hints on what we can expect from OS X 10.11 and iOS 9, the two new operating systems that will be unveiled at WWDC. With OS X 10.10, we saw banners depicting Yosemite on the Friday before the event, so tomorrow's banners could divulge the name for OS X 10.11.
Apple's trademarked the names of several California landmarks and locations, and some of those names include Redwood, Big Sur, Pacific, Diablo, Miramar, El Cap, Monterey, and Sierra, among others.
We also expect to see iOS 9 banners going up in the near future, but those banners divulge less information because there's no associated name and Apple will keep signs that highlight upcoming features covered until after the keynote event. Decorations will also be added to sign posts, the Metreon across the street, and other locations as we approach the kickoff of the conference.


Along with details on iOS 9 and OS X 10.11, this year's keynote event will also see the debut of Apple's new streaming music service and a revamped version of iTunes Radio. The Apple Watch will be a major focus with the debut of native apps, and we may also see the introduction of a rewards program for Apple Pay.


Early rumors suggested Apple would debut its a new Apple TV set-top box and a new subscription television service at WWDC, but the two products are not ready to launch and will no longer be included in the event. For additional details on what to expect at WWDC, make sure to check out our WWDC roundup and our more in-depth roundups on iOS 9 and OS X 10.11.