WWDC 2015 Decorations Going Up at Moscone Center Ahead of Monday's Keynote
Apple is set to kick off its 2015 Worldwide Developers Conference on Monday with a keynote event that begins at 10:00 a.m., and as it does every year, the company has begun decorating the Moscone Center in San Francisco where the conference will be held.
As of this afternoon, work crews have begun placing the iconic Apple stickers on the outside of the building, while also preparing to begin erecting banners in the lobby of Moscone West. As can be seen in photos shared by MacStories, the first leaves of the logo are visible.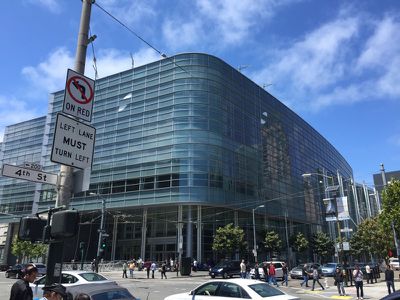 In a few hours, we'll likely see the first banners for the 2015 event, which may sport the tagline "The epicenter of change." Apple will continue decorating the center throughout the week, adding additional signage both inside and outside.
Oftentimes Apple's banners reveal hints on upcoming operating system changes, suggesting potential names and feature sets, but those revelatory banners will likely be kept under wraps until later this week. In 2014, we didn't see signs for iOS 8 and OS X 10.10 until Friday.
This year's keynote will include the debut of iOS 9 and OS X 10.11, along with a new streaming music service, a revamped version of iTunes Radio, a new Apple TV set-top box, and a rewards program for Apple Pay. For more details on what to expect, make sure to check out our WWDC roundup.
Apple plans to provide a live stream of the WWDC keynote on the Apple TV and through its website. MacRumors will also provide live coverage of the event for those unable to watch, both on MacRumors.com and through our MacRumors Live Twitter account.
Update: The Apple logo on the outside of Moscone West has now been completed and the first interior WWDC 2015 banners have gone up. Image via MacStories.