First OS X 10.10 Banner Goes Up at Moscone Featuring Yosemite
Apple is continuing to decorate the Moscone Center ahead of its upcoming Worldwide Developers Conference, and following the addition of outside banners and the first iOS 8 banner, the inaugural OS X 10.10 banner has just appeared, with a photo courtesy of The Verge.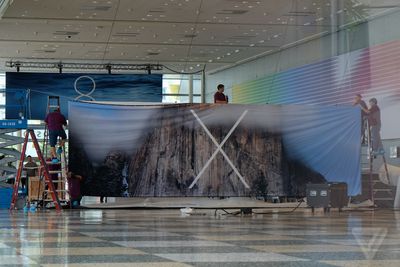 Click to view larger


The mountainous background of the banner suggests OS X 10.10 will be receiving a land-related name to complement the water-based name given to OS X 10.9, possibly Yosemite or El Cap, as the image appears to feature the national park's El Capitan rock formation. We detailed some of the names Apple has apparently filed for trademarks on back in April.
Some trademarked land-themed names include Yosemite, Redwood, Mammoth, California, Diablo, Miramar, El Cap, Redtail, Condor, Grizzly, Tiburon, Skyline, Shasta, and Sierra. Newly discovered trademarked names also include Mojave, Sonoma, Ventura, and Sequoia.
Because OS X Mavericks only introduced minor visual changes, OS X 10.10 is expected to feature a more drastic redesign, adopting a "flatter" look and taking on some iOS 7-style design elements. While little is known about the operating system at this point, we will get our first glimpse of the operating system on Monday June 2 at 10 AM Pacific Time, when Apple kicks off the Worldwide Developers Conference with its keynote presentation.
Apple will be live streaming the event both on the web and on the Apple TV. MacRumors will also provide a live blog, live tweets via the MacRumorsLive Twitter account, and a spoiler free page for those who want to watch the full keynote at a later time.