Apple to Use 'San Francisco' Apple Watch Font in iOS 9 and OS X 10.11
Though iOS 9 and OS X 10.11 are set to debut in three weeks at Apple's Worldwide Developers Conference, we've heard little detail on the content Apple might include in the new operating system updates. Neither operating system is expected to get a major visual overhaul, but there may be one significant design change for both iOS and OS X -- a new system font.
Apple has plans to use the new San Francisco font that was introduced with the Apple Watch to replace the Helvetica Neue font used in iOS 7/iOS 8 and OS X Yosemite, according to a report from 9to5Mac. The font will be used for menu items, app names, and more, throughout the operating systems.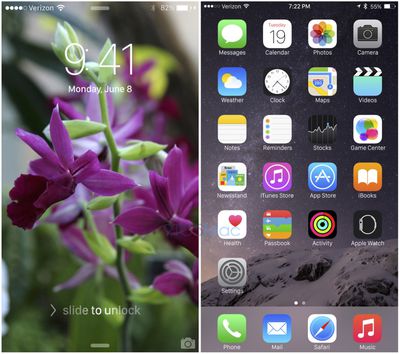 Ever since switching to particularly thin weights of Helvetica Neue in iOS 7, Apple has been chastised for using a font that emphasizes clean lines over readability, and San Francisco is intended to solve this. According to the sources familiar with the decision to move to the San Francisco type face on iOS and OS X, Apple higher-ups also believe that the new look will serve to refresh its familiar operating systems, helping iOS and OS X to avoid becoming stale. However, some Apple engineers have told us that they are not fans of the new font, which may look particularly rough on non-Retina screens.
A condensed sans-serif that's not unlike Helvetica, San Francisco is the first new font Apple has designed in-house in many years. In the 80s and 90s, Apple used several fonts that were created in-house, but the company largely ceased making its own fonts in the early 1990s. Apple's early fonts were also named after major cities, so San Francisco pays homage to those first fonts.
Chicago, New York, Geneva, Monaco, and Cairo are all fonts that were designed by early Apple graphic artist Susan Kare. Kare even designed her own font called San Francisco in 1984, but that now-obsolete typeface looked quite different than the San Francisco Apple introduced in 2014.
San Francisco was created specifically for small displays like the Apple Watch, with extra spacing between each letter to increase legibility on the wrist. Since its debut, there has been speculation that it could be brought to iPhones and Macs in the future, due to its clean look on larger Retina displays in addition to the small display of the Apple Watch. That idea was further reinforced with the introduction of the Retina MacBook, which uses the San Francisco font for the lettering on the keyboard.
We may get our first official glimpse of San Francisco as a system-wide iOS and OS X font on June 8, when Apple is expected to show off iOS 9 and OS X 10.11 for the first time. Not much else is known about the two operating systems, but Apple may be opting to focus more on internal upgrades, improvements, and bug fixes over external changes to further polish features introduced with iOS 8 and OS X Yosemite.