Apple Nixed Plans for Apple-Branded Television Set 'More Than a Year Ago'
Apple shelved plans to introduce a full-blown television set more than a year ago reports The Wall Street Journal, citing sources with knowledge of Apple's plans. The company reportedly spent more than a decade researching the possibility of releasing an ultra high-definition television set before deciding to nix the project because it couldn't find untapped features that would give it an edge in the television market.

Apple had searched for breakthrough features to justify building an Apple-branded television set, those people said. In addition to an ultra-high-definition display, Apple considered adding sensor-equipped cameras so viewers could make video calls through the set, they said.

Ultimately, though, Apple executives didn't consider any of those features compelling enough to enter the highly competitive television market, led by Samsung Electronics Co.
One of the technologies Apple investigated in the mid-2000s was a transparent display that used lasers to display an image, but it used too much power and resulted in poor image quality. Another potential feature Apple explored was video calling similar to FaceTime, but it ultimately "didn't seem compelling enough" for Apple to enter the television market.
The Wall Street Journal's report comes following comments from investor Carl Icahn, who today shared a letter covering on products he believes Apple will introduce over the course of the next several years. Icahn suggested Apple will dominate both the television and automobile markets, introducing 55 and 65-inch television sets in 2016 and a car in 2020.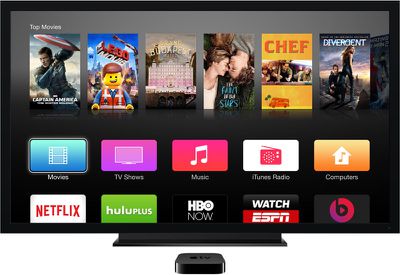 Rumors about an Apple-branded television set have circulated for many years, but picked up in 2011 after the launch of Walter Isaacson's Steve Jobs biography where Jobs' interest in the television industry was highlighted. "I finally cracked it," Jobs was quoted as saying.
Rumors continued through 2012 and 2013, pointing towards television prototypes in Jony Ive's studio and work on television designs, but rumors died down in late 2013 as a product failed to materialize. Focus turned instead to Apple's ongoing content struggles and its efforts to release a new set-top box, with the television team being disbanded and sent off to work on other projects. The television set project was not, however, officially "killed."
Apple is expected to unveil a new Apple TV and a new streaming television service at its upcoming Worldwide Developers Conference, set to begin on June 8, but according to The Wall Street Journal, the status of the announcement hinges on the completion of Apple's deals with media companies.
The new Apple TV is said to include a full App Store, Siri support, additional storage, and a redesigned form factor. The television service may feature a bundle of approximately 25 channels priced at $30 to $40 per month, with programming beginning in the fall following the prospective June announcement.