iPad App Issue Delays 'a Few Dozen' American Airlines Flights
Issues with an app on iPads provided to pilots on American Airlines flights have delayed "a few dozen" flights, making it difficult for planes to take off and causing them to return to the gates to fix the issue, according to The Verge.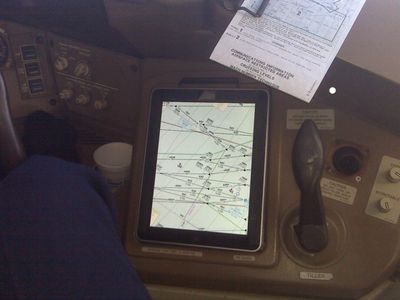 An American Airlines pilot's iPad
"Some flights are experiencing an issue with a software application on pilot iPads," American Airlines spokesperson Andrea Huguely later told The Verge. "In some cases, the flight has had to return to the gate to access a Wi-Fi connection to fix the issue. We apologize for the inconvenience to our customers. We are working to have them on the way to their destination as soon as possible." Another spokesperson said that the issue affected "a few dozen flights" across the airline. "We've identified the issue, we've identified the solution, and we are working on it right now."
Passenger Bill Jacaruso was traveling to Austin from Dallas / Fort Worth when his flight was delayed. He told The Verge that the pilot got on the intercom and told the passengers that his co-pilot's iPad had went blank. About 25 minutes later he got on the intercom again, noting that his iPad had also went blank. At the time, the pilot said that all 737 airplanes were affected, but 45 minutes later he said the issue was affecting "random" American Airline planes. Another passenger told The Verge that "two systems" had failed and needed to be rebooted.
American Airlines received FAA approval for iPad use by pilots in the cockpit back in 2011. In 2013, the airline company began giving its pilots Electronic Flight Bags (EFB) containing the iPads, the first major commercial carrier to do so. The EFB's goal is to use the iPad to replace the 40 pounds of manuals and maps that pilots usually carry. The iPads also come with a long-life battery that keeps the iPad powered for 24 hours.