The FAA has granted approval to American Airlines to use the iPad during all phases of flight, according to ZDNet. The first iPad-enabled flights are set to begin Friday on American's Boeing 777 aircraft.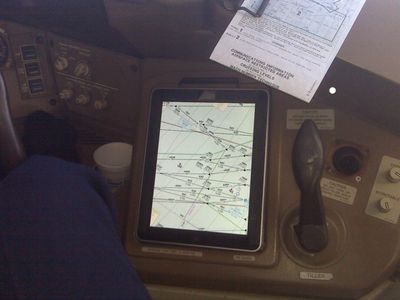 On Friday, American Airlines is the first airline in the world to be fully FAA approved to use iPads during all phases of flight. Pilots will use iPads as electronic chart and digital flight manual readers. The airline will begin iPad operations on B-777 aircraft, and then implement across all other fleets. By using electronic charts and manuals, the safety and efficiency on the flight deck is significantly enhanced. Both the iPad I and the iPad II have been approved for use. Other airlines such as United, Alaska, and UPS are also reviewing this potential, but none have been approved to conduct flight operations in all phases of flight except American. This FAA approval cumulates the results from a 6 month test period whereby American flew thousands of hours with iPads to test and evaluate the product.
A number of aviators, including those in the Marine Corps and Alaska Airlines, have begun using iPads to reduce the number of paper maps flight crews must carry and fly with. The switch saves paper, and thus fuel, by reducing the weight of flight bags which can weigh several dozen pounds.