Apple Watch's Sapphire Crystal Display Evaluated With Diamond Tester
YouTube channel Unbox Therapy has shared a new video that tests the stainless steel Apple Watch with a basic diamond tester to determine if it actually has a sapphire crystal display like many regular mechanical watches. The video also tests the Apple Watch Sport, LG G Watch R, iPhone 6 and a Tissot watch that is verified to have a sapphire crystal display.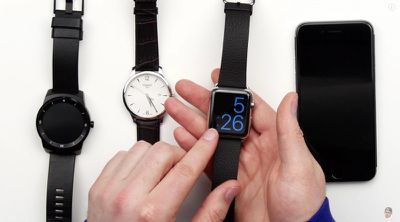 The results of the test confirm that the Apple Watch does have a sapphire crystal display as advertised, with the diamond tester recognizing the thermal conductivity of the scratch-resistant material. The verified Tissot watch also displays a reading on the meter, while the Apple Watch Sport, LG G Watch R and iPhone 6 do not yield any results because all three devices have traditional or ion-strengthened glass displays.
Sapphire crystal is a harder and more scratch resistant material than traditional glass, which is why Apple chose it for the more expensive Apple Watch and Apple Watch Edition display and lenses of the heart rate sensor. Apple cut the sapphire crystal with a diamond-encrusted wire to allow for a precise fit and polished it with diamond-covered pellets for a smooth and glossy finish.
"Sapphire is the second-hardest transparent substance after diamond," reads the Apple Watch materials page. "That's why we chose it to cover the Apple Watch and Apple Watch Edition faces, and to make the lenses of the heart rate sensor. Our sapphire crystal comes from the highest-quality boules. Only the purest, clearest, and strongest sapphire crystal is harvested. To ensure a precise fit for the case, the crystal is cut using a diamond-encrusted wire. To make room for an integrated antenna, a tiny groove is laser-ablated around its perimeter. And to create the smoothest possible finish, the crystal is polished with diamond-covered pellets."

Apple Watch has been put through a variety of tests since it was released last week, giving users an idea of how the wrist-worn device manages based on both normal and unrealistic usage. CNET shared an Apple Watch torture test on Friday that, among other things, involved submerging the watch in hot water and pouring ketchup and maple syrup on it, while another video took the Apple Watch into the shower and swimming pool as part of a waterproof test.