Apple Watch Proves 'More Waterproof Than Anticipated' in New Test
Thanks to the time difference, a few Australian Apple Watch customers began receiving their orders as early as yesterday afternoon here in the United States. Because of this, smartphone website FoneFox decided to put the Apple Watch through a variety of waterproof tests to measure just how much moisture the Watch could take before failing to function.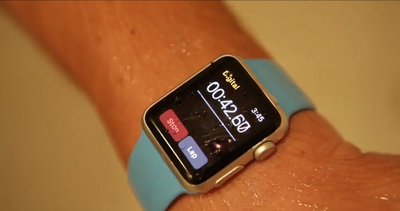 The first test is a basic splash test followed by a five minute simulated shower complete with shampoo and soap, at the end of which the Apple Watch comes out noticeably unscathed and completely responsive to FoneFox's inputs on both its touch interface and digital crown. It should be pointed out that all of FoneFox's tests were completed with a 38mm Apple Watch Sport. Although it's hard to tell how different models of the Watch will size up to similar testing, it's clear after today's tests that most models in the Sport range should see similar results as FoneFox's.
After finding "absolutely no issues whatsoever" with the Watch after the shower test, FoneFox decided to place the Apple Watch Sport completely submerged in a bucket for another five minutes. After the Watch produced similarly impressive results, the website took the device for a swim in a pool. Despite obvious responsive issues when placed underwater, after a 15 minute swim the wearable remained as functional for FoneFox as it was when taken out of the box.
Apple's estimation of the waterproof rating for Apple Watch has most likely been underplayed, as most technology is, due to certain legal and business reasons. The company gave the wrist-worn device a water resistance rating of IPX7, suggesting it to be splash and water resistant but not completely waterproof. Tim Cook even
claimed
he wore his own personal Apple Watch in the shower back in February, pointing at a better-than-expected waterproof rating for the device ahead of its launch.