Apple Highlights Environmental Responsibility in 2015 Progress Report
Apple on Monday shared its 2015 Environmental Responsibility Report that reflects on the company's environmental progress during the 2014 fiscal year. The report focuses on Apple's commitment to climate change, renewable resources, finite resources, and toxins, and outlines the company's 2014 carbon footprint and other usage information.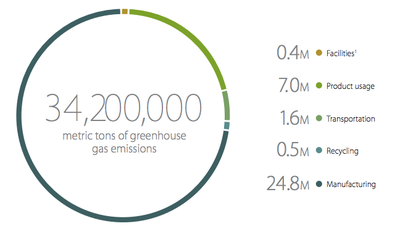 Apple's latest environmental progress report highlights that 100% of its U.S. operations and 87% of its global operations are run on renewable energy. Apple emitted 34.2 million metric tons of greenhouse gas emissions during the 2014 fiscal year, with 24.8 million metric tons resulting from manufacturing, 7 million metric tons coming from product usage, and the rest divided between facilities, transportation, and recycling.
Apple has recycling programs in 99% of the countries it operates, recovering 40,396 metric tons of steel and other metals, glass, aluminum, plastics and other materials for reuse in 2014. Apple will also be recycling over 95% of materials from existing buildings for use in Apple Campus 2, and the new headquarters will use 30% less energy than a traditional R&D office building.

Apple's 40-megawatt solar farm in Hongyuan, China
Apple has also uploaded a
new video
to its YouTube channel called "Better Starts Here" that promotes the company's environmental responsibility throughout its supply chain, data centers and other worldwide operations. Apple emphasizes how it plans to leave the world better than it found it by using renewable energy sources such as hydro power, solar farms and wind turbines, committing to forest preservation, creating energy efficient devices and more.
"Apple's commitment to the environment starts from the ground up. We strive to create not only the best products in the world, but the best products for the world. And over the past year, we've made significant progress through projects that focus on renewable energy and forest preservation. Learn how we are leaving the world better than we found it."
Apple emphasizes its recent partnerships with
The Conservation Fund
and
SunPower Corporation
to build two solar plants in China and work to protect forests and paper supplies respectively as part of its environmental commitment. The initiatives are led by Apple's VP of Environmental Initiatives Lisa Jackson to ensure that Apple's supply chain remains sustainable in the future.