Jony Ive Reveals Exclusive Apple Watch Sport Bands at Milan Design Week
Earlier today the Apple Watch went on display at Milan's Salone Del Mobile Design, with Apple SVP of worldwide marketing Phil Schiller and design consult Marc Newson in attendance. Now, it appears that Jony Ive also made it to the event, revealing exclusive sport band colors for the Apple Watch at the same time.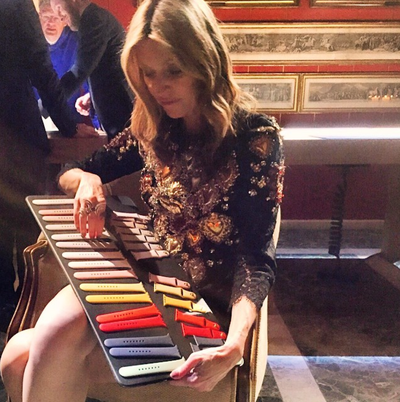 Art enthusiast and philanthropist Umberta Gnutti Beretta posted a photo of a tray holding the new band colors on her
Instagram account
(
via 9to5Mac
). The colors include what appears to be two shades of blue, the
custom red band
seen earlier today and a range of "skin-tone" colors, going from darker browns to lighter tans and peaches. This marks the third time exclusive new Apple Watch band options have been seen in the wild, with the previous two being the custom red band and the
custom gold link bracelet
Karl Lagerfeld received.
Milan is known as one of the more important cities in the fashion world, and an important destination for Apple as it continues to court the fashion world to its brand new product. While it's unknown whether Apple will release these brand new and never-before-seen sport bands for the general public, it's been rumored that the Cupertino company is looking to introduce additional casing materials for the Apple Watch later this year, suggesting that new band options are also in the cards.