Apple Stores to Offer 'Apple Watch Basics' Workshops Beginning April 24
Starting on April 24, it appears that Apple will be offering "Apple Watch Basics" workshops in some of its retail stores around the world, helping customers who begin receiving their watches on that day to learn how to use them.
The classes are listed as an available option on April 24 on individual retail store websites and in the "Stores" section of the Apple Store app. Not all retail locations are displaying Apple Watch workshop availability at this time, but select stores both in the United States and in other countries are offering workshops as of today. Workshops take place at 1.5 hour intervals all day long in most locations and are also available on Saturday and Sunday. It appears that some locations may also be offering extended hours to allow more time for hosting workshops.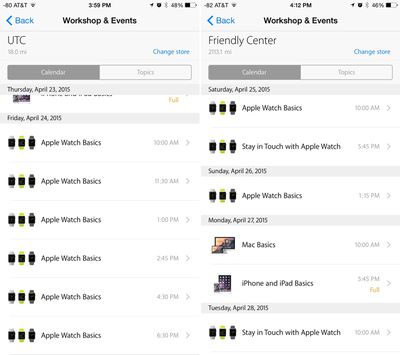 Customers who are interested in attending one of these workshops to learn more about the Apple Watch can schedule an appointment beginning today in a store where the appointments are listed. Not all stores are showing the workshops that will be available on April 24, however.
Some stores are showing additional Apple Watch classes beyond the introductory basics class, with a "Stay in Touch with Apple Watch" class also available in select locations.


Due to constrained supplies, there will be a limited number of customers who will be receiving their Apple Watches on April 24, but users who have pre-ordered and do not yet have their devices can also attend to learn more about the device. Given the few customers who will have watches in-hand on April 24, Apple recently ceased emphasizing the date on its website, replacing all "available 4.24.15" launch wording with "the Watch is coming."
Pre-orders for the Apple Watch began on April 10 at 12:01 a.m. Pacific Time and began selling out within mere minutes. Within six hours, all Apple Watches were sold out and no models offered the initial 4/24 to 5/8 shipping estimate. Apple Watch orders placed today will not ship until June and beyond.
(Thanks, Caleb!)