Apple Announces Apple Watch Pre-Orders Will Kick Off at 12:01 AM PT on April 10
Apple today updated the Apple Watch page of its online store to note that online pre-orders for the Apple Watch will begin at 12:01 AM Pacific Time on Friday, April 10. Just after midnight on the West Coast is Apple's typical time for pre-orders, and the company will likely take the store down beginning at 9PM to prepare for orders.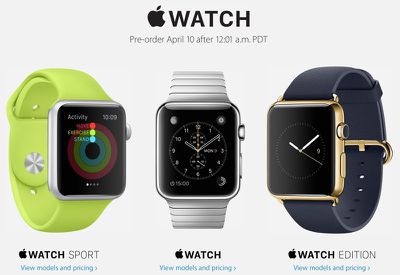 Apple Watch pre-orders will go live simultaneously in all of the first-wave launch countries, meaning U.K. customers will be able order at 8:01 AM local time while Australian pre-orders will go live at 5:01 PM AEST.
Here's a full list of pre-order times by country (in local time):
- U.S., Canada: 12:01 a.m. (Pacific Time), 3:01 a.m. (Eastern Time)
- U.K.: 8:01 a.m.
- Germany: 9:01 a.m.
- France: 9:01 a.m.
- Australia: 5:01 p.m.
- Hong Kong: 3:01 p.m.
- China: 3:01 p.m.
- Japan 3:01 p.m.
Apple will accept orders both through its website and through its Apple Store app on the iPhone. Placing an order through the app can often bypass some of the congestion that occurs when pre-orders first begin.
Pricing for the Apple Watch begins at $349 for the Apple Watch Sport, $549 for the stainless steel Apple Watch, and $10,000 for the gold Apple Watch Edition. Pre-orders will be delivered to customers beginning on April 24, which is the device's official launch date.