Apple Announces April 10 Grand Openings for Apple Watch Shops in London, Paris, and Tokyo
Apple today officially announced April 10 grand openings for its three dedicated Apple Watch shops located in high-end department stores in London, Paris, and Tokyo. As previously outlined, the store-within-a-store locations are at Selfridges in London, Galeries Lafayette in Paris, and Isetan in Tokyo.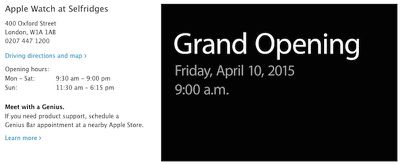 The new locations appear set to handle only Apple Watch viewing and sales, with customers being directed to other Apple retail stores for their support needs.
The Selfridges Apple Watch shop will be located near the entrance to the iconic Wonder Room, a massive shopping hall that houses a wide selection of luxury jewelry and watch brands alongside a concept store and mezzanine wine bar. Apple has reportedly been drawing employees from other retail stores in London to staff the new shop. The Galeries Lafayette shop will take over four balcony sections overlooking the main rotunda of the department store.

Apple Watch shop at Galeries Lafayette in Paris (Source: Getty Images via iGen.fr)
Apple will begin in-store previews and pre-orders for the Apple Watch on April 10, with launches in the first wave of countries coming two weeks later. The high-end gold Apple Watch Edition models will only be available at select Apple retail stores, and the dedicated Apple Watch shops at these luxury department stores will almost certainly also be featuring the gold watches, which are priced from $10,000 to $17,000.