Apple Adds CNNGo Channel to Apple TV
Just a day after adding TED, Tastemade, and Young Hollywood channels to the Apple TV, Apple has added yet another new channel to its set-top box -- CNNGo.
CNNGo is CNN's service that lets users watch live news coverage and see segments from the past 24 hours. It also includes recent CNN coverage and films on demand. The service has previously been available on CNN.com and via the CNN iPad app.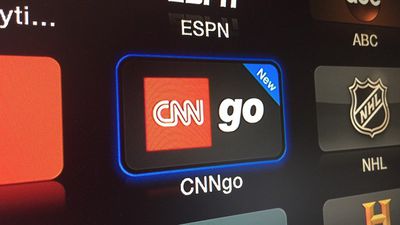 Much of the content within CNNGo requires authentication through a cable provider. Live television and full shows require authentication, but clips can be watched without a cable subscription.


Today's new CNNGo channel comes as Apple is preparing to reveal both a new set-top box and a new television service at the Worldwide Developers Conference in June. The rumored streaming television service will consist of approximately 25 channels for $30 to $40 per month, with Apple partnering with networks like ABC, CBS, Fox, Discovery, and more for content.
The next-generation Apple TV is said to have an A8 processor with a built-in App Store for downloading content and Siri support, plus more internal storage and a redesigned remote control.