HP Partnership With Apple's Beats Officially Ends as HP Moves on to Bang & Olufsen
When Apple acquired Beats Electronics, several companies that had deals and partnerships with the headphone company were forced to sever their agreements, including Hewlett-Packard (HP).
At the time of the acquisition, HP was selling laptops with "Beats Audio" branded speakers, through a partnership with Beats that was originally established in 2011. HP was only allowed to continue development on products using Beats Audio technologies through the end of 2014, leaving the company without an audio partner and without the "cool" factor Beats brought to the partnership.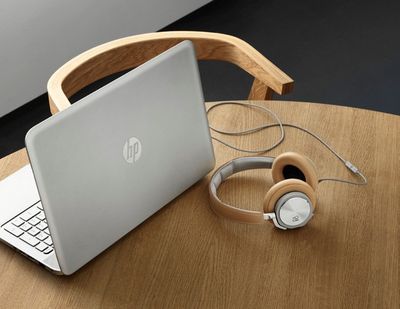 Ahead of the end of its partnership with Beats, HP began using its own in-house audio solution and ceased using Beats branding and logos, but it was unclear if that solution was based on Beats audio technology, as suggested by PCWorld.
At the launch of the recent HP Spectre X360 last month, an HP executive declined to tell the IDG News Service whether the homegrown technology was influenced by Beats, or if it had Beats amplifiers in them. HP has excellent in-house technology to boost audio in PCs, said Mike Nash, vice president of product management for consumer personal systems, at the time.
Though there may have been some remaining ties to Beats in HP products, HP today signaled its readiness to move on from the Beats brand by inking a deal with a new audio partner -- Bang & Olufsen.
HP will use Bang & Olufsen audio technology in its PCs, tablets, and other accessories, with "custom tuned" audio for different PC models. Beginning this spring, HP PCs with Bang & Olufsen branding will start shipping to consumers. Like it did with its Beats partnership, HP will add Bang & Olufsen stickers and logos to the PCs, highlighting the new audio technology. CNET shared HP's thoughts on the new partnership.
"We've certainly spent a lot of time working on audio with Beats over the years. I think certainly a lot of learnings both ways in that relationship," Mike Nash, an HP personal-computer and printing vice president, said on a call with reporters Tuesday, soon after the deal was announced. "The opportunity now is to take everything we already know and combine that with some new expertise ... as part of our partnership with Bang & Olufsen."
Even as HP moves on to Bang & Olufsen, the company is permitted to continue to sell its remaining stock of Beats-branded laptops through the end of 2015, so Bang & Olufsen-branded HP products may sit on store shelves beside those with Beats Audio technology.