Microsoft's Digital Assistant Cortana May Be Heading to iOS and Android
Microsoft is beefing up "Cortana", its virtual voice assistant found in its line of Windows Phones, with plans to provide her contextual reminders and various other features on iOS and Android devices later this year, according to Reuters.
Announced for Windows 10 desktops earlier this year, Microsoft is planning to upgrade Cortana's functions even more through research from an artificial intelligence project called "Einstein." Reuters notes that the new iteration of Cortana would double-down on her being less reactive, akin to iOS users needing to instigate Siri commands themselves, and more proactive.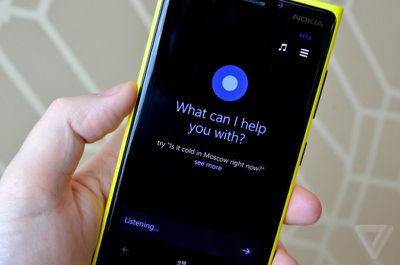 The virtual assistant, named after an artificial intelligence character who appears in most of the main Halo games, could go so far as to plan out a trip to the airport. She would prep boarding passes, check traffic and flight delays, all from reading emails related to the matter.

Cortana could tell a mobile phone user when to leave for the airport, days after it read an email and realized the user was planning a flight. It would automatically check flight status, determine where the phone is located using GPS, and checking traffic conditions.

"This kind of technology, which can read and understand email, will play a central role in the next roll out of Cortana, which we are working on now for the fall time frame," said Eric Horvitz, managing director of Microsoft Research and a part of the Einstein project, in an interview at the company's Redmond, Washington, headquarters.
While still not officially confirmed by Microsoft, Reuters notes that a Cortana app for iOS and Android could extend the program's reach beyond the company's smaller share of the smartphone business, and perhaps win over converts not impressed with Siri's functionality.
Microsoft definitely sees Siri as a competitor, releasing a string of advertisements last year pointing out Cortana's biggest features still unavailable to Siri users on iOS, like mapping out traffic patterns to provide a user alerts and contextually aware reminders