Microsoft Demos Free Windows 10 Update, Debuts New 'Project Spartan' Web Browser
In the fall of 2014, Microsoft announced its newest operating system, Windows 10, and gave a brief preview of the upcoming software, which is designed to incorporate elements of both Windows 8 and Windows 7, in an attempt to make it more appealing to users who have thus far not upgraded to Windows 8.
Today, Microsoft is holding an official unveiling of Windows 10, sharing new details on the OS and demonstrating how it works across a range of devices. With Windows 10, Microsoft is hoping to cut down on operating system fragmentation with one unified platform thats designed to run on PCs, tablets, phones, and more.
Microsoft's tagline for Windows 10 is "More personal computing," a philosophy that's evidenced in its three design guidelines that it used when developing the software: mobility of experience, trust, and natural interaction, through a range of different input options from mice and keyboards to pens and simple touch.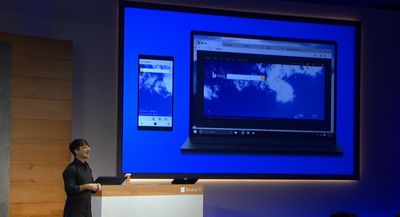 Windows 10 somewhat mirrors Apple's efforts to unify iOS 8 and OS X Yosemite by creating a deep level of integration with features like Continuity, because Microsoft promises a unified experience and platform integration that will make it easy to put one device down and continue where you left off on another device.
In an effort to get its users to adopt Windows 10, Microsoft is planning to distribute Windows 10 to Windows 8.1 and Windows 7 users at no cost for the first year, which is an unprecedented move for the Washington-based company. Unlike Apple, Microsoft has never offered Windows for free, but Apple's success getting the majority of its users on the same operating system has likely inspired Microsoft to make the same effort.
Once a device is upgraded to Windows 10, Microsoft plans to keep the operating system current for the lifetime of the device. With a unified operating system, developers can target every single Windows device, and Microsoft is planning for long term support.
"Windows 10 is so much more than the latest version of Windows," said Microsoft VP of Operating Systems Terry Myerson. "Windows is turning into a service that will run across every device."

At today's event, Microsoft demoed Windows 10 running on several different devices, beginning with a tablet equipped with a keyboard and a mouse, running the full Windows 10 operating system. Windows 10 melds elements of Windows 7 with Windows 8.1, maintaining the tile system but also returning the iconic Start Menu.


There's an action center that delivers notifications and supports quick actions like turning off Wi-Fi and Bluetooth, and there's also a merged PC Settings and control panel option, which will be universal across all devices. With Continuum, a new feature that's designed to make transitioning from PC mode to tablet mode seamless, the mouse and keyboard were removed and Windows 10 offered a popup that transformed it into tablet mode. "A device like this elegantly transforms from one mode to another."
Microsoft also demoed its virtual assistant Cortana on a Windows PC, demonstrating her ability to search for information, set reminders, and more. Previously, Cortana was limited to Windows Phone, but the assistant will be available across all devices with the introduction of Windows 10. Cortana in Windows 10 is quite powerful, able to answer queries like "Bring up all my photos from December," or "Play my music," and she'll be integrated into the Maps app.
Windows 10 was also shown off on a small form-factor tablet and on a phone, with an emphasis being placed on the unification between the devices, with the same methods being used to access settings, apps, and more. For messaging, for example, Microsoft has plans for Skype integration, making it easy to transition from messaging to making a Skype call. Microsoft apps like Office and Outlook will be available on PCs, phones, and tablets, and it will be easy to transition between apps on various devices.


Microsoft is introducing a slew of universal apps, and in addition to those mentioned above, Microsoft has a new Photos app that's formatted to fit any screen on a tablet, phone, or PC. It aggregates photos from all devices, providing one simple view of photos and filters clutter like double shots, which sounds similar to what Apple is aiming to do with its own Photos app.
Along with Windows 10, Microsoft debuted a new browser for the modern web, which is currently codenamed Project Spartan. It's a new web browsing experience for Windows 10, which has a new rendering engine, a new look and feel, and features like a note-taking mode that lets users draw directly on their browsers before sharing a link, a reading mode with reading list and offline browsing, and access to Cortana in the browser.


Finally, Microsoft debuted a unified Xbox app that can be accessed on PCs, tablets, and smartphones, connecting those devices to Microsoft's Xbox gaming platform. It can be used for sharing gaming clips, and with Windows 10, Microsoft plans to enable streaming of any Xbox game to Windows PCs and tablets running Windows 10 in the home.
Microsoft has already provided access to Windows 10 to some users through its Windows Insider Program, a project that it plans to continue to use to seed out new Windows 10 features. Project Spartan and the features shown off today will come to Windows Insider testers in the coming months.