Apple Watch Takes Two Hours to Charge, Only Delivers Notifications While on the Wrist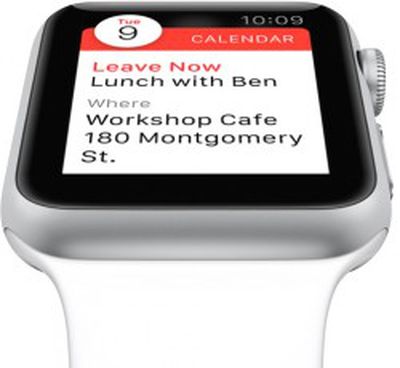 Apple Watch will take approximately two hours to fully charge and deliver all-day battery life with normal on-and-off usage, according to TechCrunch. Those estimates corroborate a previous report that also claimed the Apple Watch will deliver all-day battery life and support up to five hours of heavy usage per charge.
The report also claims that the Apple Watch will only deliver notifications while worn on the wrist. The smartwatch will not ping you for notifications without being in contact with skin so that the device is not disruptive at unnecessary times. Apple Watch will also stop delivering notifications when the battery reaches 10% or lower in an effort to conserve the remaining power.
"Here's a tidbit you might not know — in order to receive notifications from apps, the Watch must be on your wrist and locked. They require contact with your skin. There will be no in-app dropdown notifications or constant pinging while it's off your wrist. Push notifications also cease when the battery reaches 10 percent. Those decisions speak to the care with which Apple is handling notifications."
Apple continues to tweak Digital Crown on the Apple Watch, giving the button a "weightier, higher-end feel." Pressing and holding down the Digital Crown activates Siri, which the report claims works well and can be used for labeling, directions and commands using a paired iPhone. The goal of the Apple Watch, the report describes, is to return some of your attention away from your smartphone by allowing you to communicate from your wrist on the go.
While both reports this afternoon have provided a closer look at the Apple Watch, there are still several question marks surrounding the wrist-worn device. That will change in less than three days, when Apple provides more details about the Apple Watch at its highly-anticipated "Spring Forward" media event in San Francisco. The keynote begins on Monday at 10 AM Pacific and MacRumors will be providing live coverage of the event.