Apple Watch Battery to Support Five Hours of Heavy Usage, Will Last All Day With Mixed Use
With just over two days to go until Apple's big March 9 "Spring Forward" event that's said to be heavily focused on the Apple Watch, information on the device is leaking out at a rapid pace. Apple's been relatively quiet about battery life, stating only that the Apple Watch will need to be charged on a daily basis, but 9to5Mac has a few more details on how long we can expect the Apple Watch to last between charges.
According to the site's sources, final software tweaks and optimizations to the device have led to a battery life of approximately five hours of heavy application usage. The device reportedly will not run out of battery life "during a typical day of mixed and passive use," but it will need to be charged on a nightly basis as Apple has previously said. There's also been little said about how the Apple Watch will affect the battery of the iPhone, but 9to5Mac's sources say that there is no "meaningful" observed battery drain while using the device.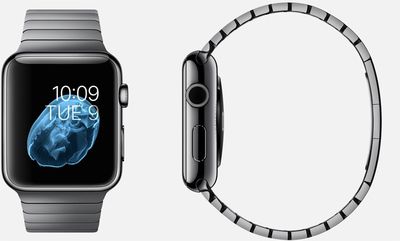 A Power Reserve Mode can be activated within the watch when the battery in the device becomes critically low, ensuring that it's primary function -- telling the time -- is always available. Power Reserve Mode can be activated at any time via a Battery Life Glance screen.
Power Reserve Mode can even be accessed when the Watch has a full 100% charge, and it is not solely activated when the Watch's battery life is low. The mode noticeably dims the display, slows down communication with the iPhone to an on-demand level, and puts the display to sleep after roughly two seconds of inactivity. One unit tested allowed access to all Apple Watch functions while in Power Reserve mode, while another unit was limited to the Clock face.
The Apple Watch is also said to have an interesting method of displaying remaining battery life. At 20 percent, the Battery Life Glance (which is just one of many default glances on the watch) will turn an orange/amber color to let users know that battery life is running low, and at 10 percent, it will turn from amber to red.
Along with battery life, there are also some new details on onboard storage. We've known for awhile that the device will have dedicated storage for features like music storage, but the exact amount of storage has not yet been shared. It appears that prototype devices have 8GB of storage, suggesting at least some devices will ship with that amount of storage space. Like with the iPhone, there may be several storage options that are available at an additional cost.
In just a few short days, we'll have a wealth of information on the Apple Watch. Apple is expected to share more details on battery life, storage space, pricing tiers, and accessory options at its upcoming March 9 event. Apple is planning to live stream the event, and MacRumors will also provide live coverage, both on MacRumors.com and through the MacRumorsLive Twitter account.