Apple Putting Banners Up at Yerba Buena Center Ahead of March 9 Event
Apple began its efforts to decorate the Yerba Buena Center for the Arts in San Francisco yesterday, putting up the scaffolding that would allow workers to hang colorful banners and logos, and as of today, the first decorations have gone up.
Starting this morning, workers were spotted in the basket of a bright orange cherry picker, placing a banner across the glass of the Yerba Buena Center for the Arts where Apple will hold a special "Spring Forward" media event on March 9. The initial banner panels, which include Apple's iconic Apple logo, use the same general colors that were seen on the event invite, in shades of green ranging from pistachio to honeydew merging into shades of blue.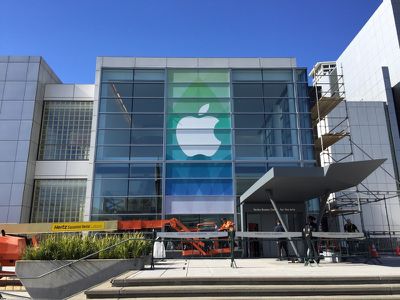 Workers have only just begun decorating the event center and it's likely the building's entire side will feature the same graduated lotus flower Apple design that was seen on the invitation, so colors should expand from green to blue to purple over the next few days as the company finishes preparations for Monday's event.
Apple's "Spring Forward" affair is said to be focused on the Apple Watch, and the company is expected to unveil additional details about the device, including information on battery life, pricing, and a launch date. Apple may also be planning to use the event to unveil the 12-inch Retina MacBook Air and/or refreshed 11 and 13-inch MacBook Airs.
The event will kick off on Monday, March 9 at 10:00 a.m. Pacific Daylight Time. Apple plans to provide live coverage of the event on its website and through a channel on the Apple TV, and MacRumors will also be covering the event with both a live blog here on MacRumors.com and through our MacRumorsLive Twitter account.