Luxury Sports Car Brand Koenigsegg Announces New Regera Hypercar With CarPlay Support
Swedish car manufacturer Koenigsegg is known for its high-priced luxury sports cars, often called hypercars. At the Geneva Motor Show today, Koenigsegg showed off its latest car -- an ~1,800 horsepower hybrid vehicle with built-in support for Apple's CarPlay service.
Called the Regera, which translates to "to reign" in Swedish, the car can go from 0 to 250 miles per hour within 20 seconds, and it tops out at a speed of 255 miles per hour. It's equipped with a 5.0-litre twin-turbo V8 engine along with three electric motors. One motor replaces the standard transmission with the Koenigsegg Direct Drive system, and there's a motor dedicated to each rear wheel.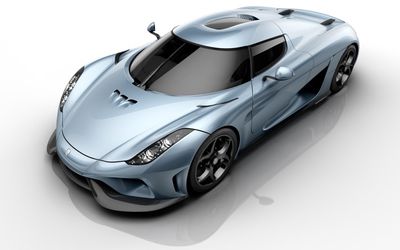 Inside, the Regera is equipped with an infotainment system that includes a 9-inch infrared zForce Neonode touchscreen, which is said to offer superior touch performance and multi-touch gestures. The infotainment system is compatible with Apple's CarPlay, letting Regera buyers connect their iPhones to their cars to access all of CarPlay's features.


The Koenigsegg Regera is priced at $1,890,000, and only 80 of the cars will be produced. The version being shown off at the Geneva Motor Show is the first in the series, and is said to be 95 percent complete.
A long list of automobile manufacturers have signed up to partner with Apple and introduce CarPlay in upcoming vehicles, but thus far, Ferrari is the only brand that has produced a car that's available with CarPlay -- the $300,000 Ferrari FF. Audi, Volkswagen, and Hyundai have all promised that CarPlay-compatible cars will be available in 2015, and there are a number of aftermarket CarPlay solutions from Alpine and Pioneer that are currently available for purchase.