Hyundai Bringing New 'Display Audio' In-Dash System With Apple CarPlay to 2016 Models
Hyundai today confirmed that it will showcase its new CarPlay-enabled Display Audio system next month at CES 2015. Display Audio is a dash-installed color touchscreen display that supports the latest in-car handsfree technology.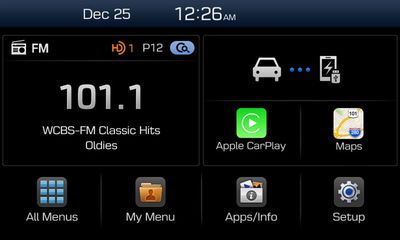 Hyundai's Display Audio forgoes built-in navigation and CD player features, instead including support for Apple's CarPlay and Android Auto to allow drivers to make phone calls, listen to music, send messages, and get directions using the car's in-dash display. The system also integrates with the voice command button on the steering wheel, providing drivers with an easy way to launch Siri Eyes Free commands.
"Hyundai will offer more technology than ever before inside affordable Hyundai models, allowing owners not only to text message through voice commands and stream their favorite music apps, but also to make calls in a safer way, and navigate using phone-based, off-board navigation through the car's screen and controls," said Cason Grover, senior group manager, cross-carline planning, Hyundai Motor America. "As affordable car buyers are often younger, Hyundai aims to provide what they want most in their car – all the latest smartphone-enabled technologies at a lower price."
Hyundai plans to roll out the Display Audio system with CarPlay support in select 2016 Hyundai models, which debut later in 2015. The system then will become the default head unit across the company's automobile lineup.
Hyundai was among five brands of automobile manufacturers featured by Apple during its CarPlay announcement earlier this year. Following the CarPlay launch, Hyundai confirmed it would integrate CarPlay in its 2015 Sonata line, although the feature has yet to made available in those vehicles.