Samsung to Produce Majority of Apple's A9 Chips for Next-Generation iPhone
Samsung will be the main supplier of Apple's upcoming A9 chip that will power the next-generation iPhone, reports South Korean newspaper Maeil Business (via Reuters). The newspaper notes that Samsung will supply around 75% of chips for the next iPhone, and that the processors will be produced at the company's factory in Austin, Texas.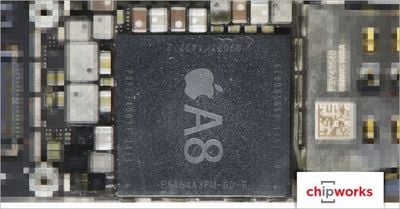 Apple's A8 chip


Last month, a report from Korea's ET News said that Samsung had begun work on the processor in Texas. Previous reports noted that Samsung and Taiwan Semiconductor Manufacturing Company (TSMC) would be producing the A9 chip, although Samsung was chosen to be the primary supplier in a deal that was said to be worth billions. BusinessKorea reported last month that Apple would be relying more heavily on Samsung for iPhone 6 and Apple Watch components including RAM, NAND flash storage, and batteries.

Apple's A9 chip is expected to power the iPhone 6s and presumably the next-generation iPad Air and iPad mini. Apple is also expected to launch a larger-screened iPad Pro at some point this year, although that device has been rumored to utilize Apple's A8X processor.