Apple Campus 2 Construction Progresses as Parking Garage and Event Theater Take Shape
As work on Apple's Campus 2 in Cupertino has continued throughout the fall, the spaceship-shaped structure has rapidly grown from basic foundations to the beginnings of an actual structure. Now, thanks some aerial shots recently taken by AppleInsider's DJI Phantom 2 Vision Plus drone, the construction site appears to be moving along rapidly with concrete slab poured around the ring of the structure and a few dozen cranes working across the site.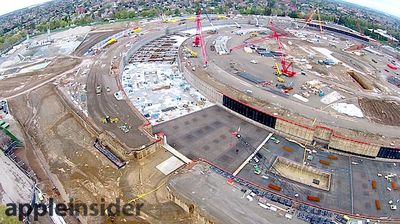 As noted by AppleInsider, the earth-built ramps previously used to gain access to the site are now gone following the installation of the concrete floor. Instead, work on an underground channel access has begun, with plans to connect the main employee entrance off of Wolfe Road to the garage underneath the main structure and the two above-ground parking garages.
One of the biggest advancements to the campus worth noting is the separate 120,000 square foot "event center" that is costing the company around
$161 million
and will house an auditorium and product demo space for the company's media events. The outline of the primarily underground structure has received more definition alongside a surrounding bank that will eventually be tree-lined.
The parking facility, which includes an underground segment, is also rising rapidly, and is currently built up to the third level. It's the first of two similar structures being built that will together provide parking spaces for over 5,000 cars visiting the campus.


Though construction has continued steadily throughout the last half of 2014, the Apple's Campus 2 obviously still has a long way to go until completion. Besides the main "spaceship" structure, event theater, fitness center, and parking garages, Apple also submitted revised plans in October adding a few offices, testing facilities, and additional parking garages onto the second phase of construction. The complete campus is expected to be finished by the end of 2016.