Construction Continues at Apple Campus 2, Foundation Nears Completion
The City of Cupertino, where Apple is building its spaceship-shaped second campus, has today shared an update on the progress of the campus along with a new aerial photo.
Construction continues at a rapid pace, with workers on site throughout the weekday and weekend. Apple appears to have completed much of the foundation of the main circular building and concrete mixers have been on site for the last several weeks. Much of the construction continues to be hidden from view at street level, but heavy construction equipment is visible.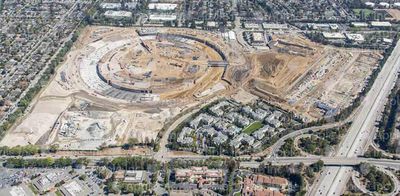 Traffic around the area of the campus remains congested, as several roads continue to be shut down. Pruneridge Avenue is permanently closed, and there have been several lane reductions on Wolfe Road and Homestead Road, which surround the campus.
Along with a new aerial photo shared by the city, a drone captured new footage of the building site over the weekend, giving a clearer picture of the ongoing construction. As seen in the video, several sections of the circular foundation are covered with concrete.
According to a general project schedule, Apple plans to have street utilities and demolition complete by the end of the year, with earthwork continuing on until Q2 2015 and construction on the building itself lasting until the end of 2016.
Apple's completed campus, located in close proximity to the company's existing Infinite Loop campus, will feature the iconic 2.8 million square foot ring-shaped main building, an underground parking facility capable of accommodating 2,400 cars, a 100,000 square foot fitness center, and a 120,000 square foot auditorium.