Apple's currently in the process of building an iconic "spaceship" campus in Cupertino, and along with the main circular building, the campus will include both an auditorium for press events and a fitness center designed for employees.
According to building permits obtained by BuildZoom (via Re/code) the 120,000 square foot event space that Apple is constructing via BNBT Builders is costing the company $161 million.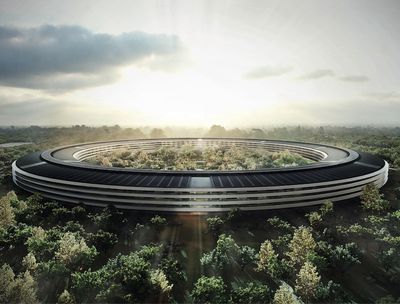 Apple's 100,000 square foot fitness center, a must-have perk in the highly-competitive Silicon Valley market, will cost the company $74 million.
Apple's second campus, located in close proximity to its existing 1 Infinite Loop campus in Cupertino, will cost the company more than $5 billion dollars in total. As of the latest update, Apple had largely finished pouring the foundation for the main circular building, and had commenced building the actual structure. The campus, which will house approximately 12,000 employees, is expected to be completed by the end of 2016.