Construction at Apple Campus 2 Progresses, Work on Structure Has Begun
Construction at Apple's spaceship is progressing at a rapid pace, with workers on site at the campus seven days a week. A new photo shared by the City of Cupertino suggests Apple is almost finished with the foundation of the structure and has begun construction on the actual circular-shaped building.
Back in October, the foundation was nearly done, so it is not surprising that construction has progressed to the actual structure itself. Though much of the construction is hidden behind privacy walls, Apple continues to have two enormous concrete mixers on site, as well as other heavy construction machinery.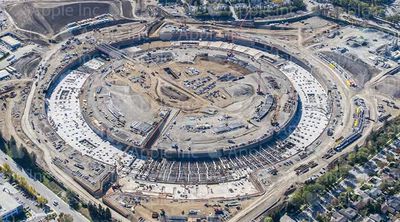 Over the weekend, a YouTube user who has been capturing a series of videos of the Campus 2 site with a drone shared a new video, which depicts the walls that are going up now that the foundation is mostly complete.
The area around the campus continues to see heavy traffic at all times of the day due to ongoing roadwork, and several streets are seeing daily road closures as construction workers aim to complete necessary upgrades in a timely manner. Pruneridge Avenue has been permanently closed, and both Wolfe Road and Homestead Road are heavily congested.
According to Apple's project schedule, roadwork is expected to be completed by the end of 2014, while earthwork and the planting of trees will continue on until mid-2015. Full demolition is expected to end during the first quarter of 2015, while building construction is expected to last until the end of 2016.
Apple's completed campus will feature the iconic 2.8 million square foot ring-shaped main building, an underground parking facility capable of accommodating 2,400 cars, a 100,000 square foot fitness center, and a 120,000 square foot auditorium. A second phase of construction will see Apple building several additional satellite facilities for research and development.