Apple Pay Responsible for 1% of Digital Payment Dollars in November, Most Popular at Whole Foods
Apple Pay is seeing impressive early adoption numbers according to a new ITG Investment Research Report on Mobile Payments (via MarketWatch), which suggests Apple's new payment service was responsible for a total of 1 percent of digital payment dollars during the month of November.
Apple still trails industry leaders like Square and PayPal, which captured 18 and 78 percent of digital payment dollars in November, respectively, but ITG analysts suggest Apple Pay is showing strong momentum given that it's available only to customers with the newest hardware and supported by a limited number of merchants.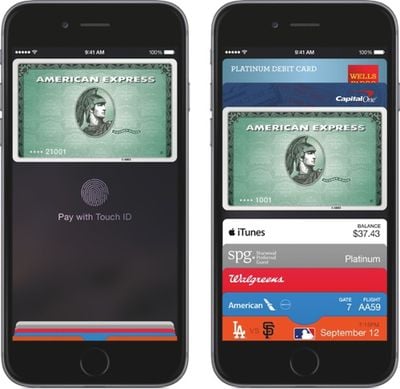 According to the report, which uses data from ITG's Investment Research consumer panel, 60 percent of new Apple Pay customers used the service on multiple days throughout November, averaging 1.4 use times per week. In comparison, only 20 percent of new PayPal customers used the service multiple times during the same time period.
Among customers who used Apple Pay, Whole Foods was the location where the service was used most, capturing 20 percent of all Apple Pay transactions. Walgreens came in second, with 19 percent of transactions, and McDonald's was third, with 11 percent of transactions. Whole Foods was also saw the highest spending, responsible for 28 percent of all Apple Pay dollars spent.
Available since October 20, Apple Pay is accepted at several of Apple's partner stores and at more than 200,000 retail locations where NFC payments are accepted. Apple has given little indication of Apple Pay's early success, but in October, Apple CEO Tim Cook revealed that Apple Pay had seen more than one million credit and debit card activations during its first 72 hours of availability.