Bose Products Could Be Returning to Apple Store Shelves Next Week [Updated]
Back in October, Apple removed all Bose audio products, both demo and sellable, from its retail stores around the world, but it appears the company may be planning to reintroduce Bose products to store shelves in the near future.
According to a source that spoke to French Apple website iGen.fr [Google Translate], some Apple retail stores have begun receiving shipments of Bose products with orders to put the products back on store shelves next week.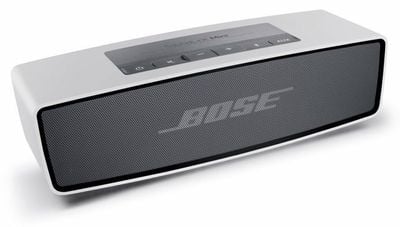 It was not clear why Apple removed Bose products from its retail stores, but the decision did follow Apple's acquisition of Beats Electronics and a July patent infringement lawsuit that Bose filed against Beats. In the lawsuit, Bose accused Beats Electronics of infringing on several patents related to noise cancellation and other audio technologies with its Beats Studio and Studio Wireless headphones.
Shortly before Bose products were removed from Apple Stores, Beats and Bose agreed to settle the dispute between them, so it's possible that a planned removal and reinstatement of Bose products may be related to now-settled disagreement between the two companies. The move to remove Bose products from stores may have been initiated ahead of the settlement, with the products now able to return due to the end of the feud.
While a return of Bose products to the Apple Store following the end of the lawsuit makes some sense, it remains unclear whether iGen.fr's information is accurate. Beats and Bose still offer competing products, and recently, Bose teamed up with the NFL to ban NFL players from wearing Beats headphones during games. Rather than taking offense at the move, however, Beats co-founder Jimmy Iovine was pleased with the attention the ban garnered Beats, saying "I can't believe I'm this lucky" and that it made Beats "look like superheroes."
Bose products are not the only products that Apple has removed from its store shelves in recent months. The company also pulled Fitbit fitness accessories from its retail and online stores in November, without explanation.
Update 12/9: 9to5Mac has acquired internal store information that confirms Bose products such as the SoundLink III Bluetooth Speaker will be returning to store shelves shortly.