Job Listing Points Towards Apple's Continued Interest in Virtual Reality
Over the past several years, Apple has expressed an interest in both virtual reality and augmented reality, and has applied for a number of patents related to both technologies. The company has explored a goggle-like video headset that would possibly allow for 3-D viewing, much like the Oculus Rift virtual reality headset, it's looked into a motion-sensing virtual 3D user interface for iOS devices, and it's explored 3-D "hyper-reality" displays.
While many companies are following in the footsteps of Oculus VR and have already introduced virtual reality hardware, there has been little to no hint that the technology mentioned in Apple's numerous patents will ever come to fruition.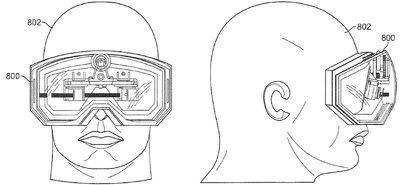 Apple's interest in the virtual reality arena does not appear to have waned, however, and it may even be picking up. A new job posting on Apple's site for an "App Engineer" (via 9to5Mac) suggests that the company is continuing to explore virtual and augmented reality, at least on the software side. The job listing seeks a software engineer to help the company "create next generation software experiences" designed to integrate with "Virtual Reality systems."
We are looking for a software engineer to develop UI and applications to create next generation software experiences. The individual must be able to participate in collaborative and iterative UI design through the implementation phases & complete performant user experience code for product delivery. This engineer will create high performance apps that integrate with Virtual Reality systems for prototyping and user testing.
It is not clear, of course, what Apple means by "Virtual Reality systems," which could refer to a full-on hardware experience, an augmented reality app experience, or something else entirely, but augmented reality and virtual reality have become increasingly important areas for development. Headsets like the Oculus Rift are beginning to catch on, and Google has been experimenting with augmented reality, both in its Ingress game for iOS and Android and with "Project Tango," an ambitious experimental smartphone that will provide 3-D mapping capabilities and immersive augmented reality games.
Apple is in possession of technology that's quite similar to what's used in Google's Project Tango, which Apple acquired in 2013 with the purchase of 3-D mapping company PrimeSense. PrimeSense famously developed the original Kinect, and its technology could be used as the backbone for virtual/augmented reality interfaces and games.