Apple Watch Chipmakers Said to Be Gearing Up Production
Chip suppliers within the Apple Watch supply chain have begun "gearing up" to start production for Apple's new device, according to a new report from Digitimes. Chip orders are estimated to be around 30 - 40 million units for a debut in early 2015.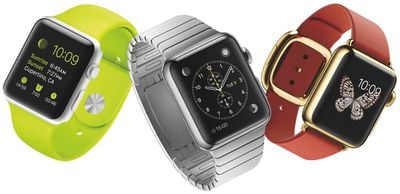 Digitimes had previously reported, prior to Apple's September 9 event, that the device was at the engineering verification test stage and needed to complete product verification testing before entering mass production. It appears that the Apple Watch has now passed that milestone and is beginning to enter mass production for its debut in early 2015.
Apple Senior Vice President of Retail and Online Stores Angela Ahrendts had previously revealed that the device would debut in Spring 2015, with several reports indicating that Apple was aiming for Valentine's Day 2015 as a potential launch date. Apple Watch pricing will start at $350 for the aluminum version, while the stainless steel and gold editions will reportedly retail for prices starting at $500 and $4,000 respectively.