Apple Watch Launching in 'Spring' According to Apple Retail Chief Angela Ahrendts
In a video message sent out to retail employees, Apple's Senior Vice President of Retail and Online Stores Angela Ahrendts revealed that the Apple Watch will be launching in the Spring of next year, reports 9To5Mac. The timeframe given is slightly more specific than Apple's own launch projection of "early next year", which was shared during its initial unveil of the Apple Watch back in September.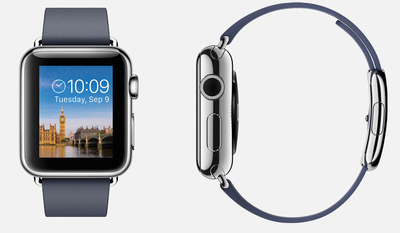 "So, again, we do - you guys were hired because you're the best people in the world. And you know how to service customers, but we are sprinting a marathon and it's not going to stop. Right? We're going into the holidays, we'll go into Chinese New Year, and then we've got a new watch launch coming in the spring."
The report also notes that Apple will be training its retail employees on how to introduce customers to the Apple Watch. Apple Retail Stores will allow customers to try on the wearable device and experience the different sizes and bands offered. The Apple Watch's presence at the company's retail stores are said to be a big emphasis for Ahrendts, who believes that sales of the device will help deepen relationships with customers.
A source briefed on Apple's plans for the Apple Watch told The Information in September that the company would be "lucky to ship it by Valentine's Day." That report stated that Apple planned to have the watch ready to ship in time for the 2014 holiday season, but had problems finishing software development in time. Hints of a delay on the software side first surfaced shortly after the device's unveiling, as members of the press who were invited to spend some hands-on time with the devices noted that none of the display units were running the actual Watch OS operating system.