Large-Screened iPhone 6 and 6 Plus Less Popular With Android Switchers Than Predicted
The larger-screened iPhone 6 and the iPhone 6 Plus may have been less popular with Android switchers than analysts initially predicted, according to new data gathered by Consumer Intelligence Research Partners (CIRP).
A survey revealed that fewer iPhone buyers came from the Google Android platform in 2014 compared to the number of buyers who switched from Android to an iPhone in 2013. In 2014, 12 percent of iPhone buyers reported formerly owning an Android phone, while 23 percent reported being former Android customers in 2013. The launch of the iPhone 5s also saw a higher number of customers coming from BlackBerry and Windows Devices.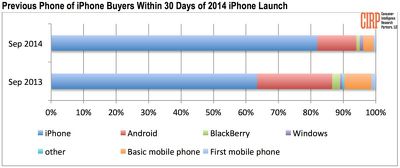 "The vast majority of new iPhone buyers were already iPhone owners." said Josh Lowitz, CIRP Partner and Co-Founder. "Current iPhone owners accounted for over 80% of buyers after this launch, compared to less than 65% after the iPhone 5S and 5C launch in September 2013. Android owners accounted for a much smaller share of buyers immediately after this year's iPhone launch, and with smartphones so prevalent in the US, we also saw a smaller percentage of iPhone buyers moving from basic phones."
Former Android owners who were already accustomed to larger screens were more likely to buy the 5.5-inch iPhone 6 Plus than iPhone owners who were upgrading to a new device. 31 percent of former Android owners chose the iPhone 6 Plus, while only 25 percent of existing iPhone owners opted for the 5.5-inch iPhone 6 Plus over the 4.7-inch iPhone 6.
The data also shows that those who did switch from Android in 2014 tended to go for more expensive flagship iPhones. In September of 2014, 85 percent of former Android owners who bought an iPhone chose the iPhone 6 or 6 Plus, while only 52 percent of former Android owners who bought an iPhone chose the iPhone 5s in 2013.
Ahead of the launch of the iPhone 6 and iPhone 6 Plus, analysts suggested the larger screens of the two devices could cause a massive spike in upgrades and lure an unprecedented number of former Android users who desired bigger displays. In anticipation of a large number of Android switchers, Apple even launched a guide designed to walk Android users through moving data from their Android devices to the iPhone.
During Apple's most recent earnings call, CEO Tim Cook noted that Apple had seen a huge numbers of upgraders along with many first time buyers, including both customers who had never had a smartphone and switchers from Android. Cook also explained that demand was "far outstripping" supply, with no clear date for supply/demand balance in sight.
Though it appears that the iPhone 6 and 6 Plus may not have been highly popular with Android switchers, it is important to note that CIRP gathered its data from just 300 Apple customers who purchased an iPhone in the 30 days following the device's September 19 launch. A survey encompassing 300 customers is a very small sample size relative to the number of people who have purchased one of Apple's new devices, a figure that had already hit 10 million during launch weekend.
It will be interesting to see if the balance between upgraders and Android switchers shifts over time, as it's possible that iPhone users already on Apple's timetable may be more inclined to upgrade their devices right away while Android users may be waiting for their contracts to expire.