FCC Document Details New Apple-Developed Wireless Beats Solo2 Headphones
The first Beats product to be released under Apple's guidance has been unveiled in documents recently submitted to the FCC, suggesting Apple will soon be releasing a pair of Beats Solo2 headphones that include wireless Bluetooth functionality.
As seen in diagrams, the design of the new wireless Solo2 headphones is nearly identical to Beats' existing Solo2 line. The Solo2 headphones are the company's newest product, released in May, just a day after Apple's Beats acquisition became official.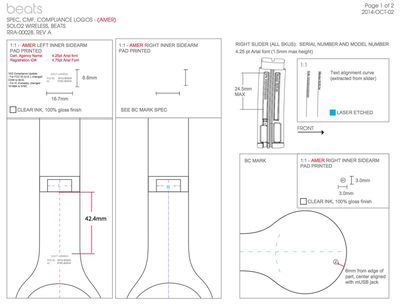 The Beats Solo2 headphones will contain Bluetooth and BLE radios, allowing them to function wirelessly. Beats currently offers a wireless version of its more expensive Studio headphones, but its Solo2 line is somewhat more affordable. The company's current non-wireless Studio headphones retail for $300 while the wireless version retails for $379, suggesting Solo2 wireless headphones could sell for approximately $279 if it uses the same markup.
At $3 billion, Apple's Beats acquisition is its largest in history, and Beats' line of successful headphones was said to be one of the driving factors behind the purchase. Beats' aggressive marketing tactics and clever advertising campaigns have skyrocketed its headphones to popularity, and they are very popular with athletes and the younger demographic. A survey released shortly after the acquisition was finalized suggested that a large percentage of students believed Beats would make Apple more "cool."
The new Solo2 wireless headphones remain under FCC review for the time being and a potential release date is unknown.