Beats Tones Down the Bass With its New Solo2 Headphones
Following the announcement that Apple was acquiring Beats Electronics, the audio accessory company is not slowing down, announcing a new version of its most popular set of on-ear headphones. The new Beats Solo² offers a new physical design and improved acoustics that promise to deliver "a wider range of sound and enhanced clarity."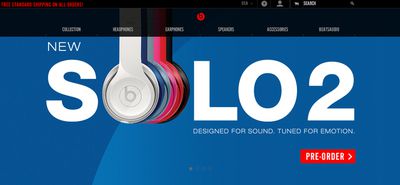 An early review from Engadget suggests the new cans tone down the bass, providing a "more balanced" sound than other Beats headphone models that often are criticized for their bass-heavy sound.
Well, the best way I can describe the sound here is "more balanced." Don't get me wrong: There's still plenty of bass when tunes call for it, but you can also clearly pick up other elements -- things like hi-hats, snares and others all seem to stand out more when compared to previous releases.
Besides the improved audio quality, the Beats Solo² has a sleeker, more polished design that makes the headphones comfortable to wear, says The Wall Street Journal.
The new design, which echoes the more expensive, over-ear Beats Studio, is sleeker, with no visible screws and higher quality materials that offer a more premium feel than the predecessor. Acoustics have been improved, too. The ear cups now sit at an angle that's far more comfortable on your ears—especially after hours of wear. The new ear-cup design also blocks out more background noise.
Now that Apple is acquiring Beats, these Solo² headphones may be among the last models released by Beats as a standalone company. Going forward, Apple will oversee the design and marketing of Beats' future products. As part of this transition, Beats will sever its long-term relationship with design firm Ammunition, which is responsible for the design of the Beats' current lineup of headphones and speakers.
The new Beats Solo² headphones are available now for pre-order from Beats' website and will arrive in retail stores beginning June 1. Pricing for the model remains the same, with the Solo² costing $199. It is available in a variety of colors including pink, blue, gray, white or red.