Fitbit Announces 'Surge' Fitness 'Super Watch', Two New Activity Trackers
Fitbit today announced three new wearable devices, including
the Surge
, described as a "fitness super watch," the
Charge
, an update to the Fitbit Force activity tracker, and the
Charge HR
, which tracks a user's heart rate.
Positioned as Fitbit's most advanced wearable yet, the Fitbit Surge offers GPS tracking, continuous heart rate monitoring, and the activity tracking that's been standard in Fitbit's early wearables, keeping track of steps, distance traveled, calories burned, floors climbed, sleep quality, and various other fitness-based activities like running and cardio workouts.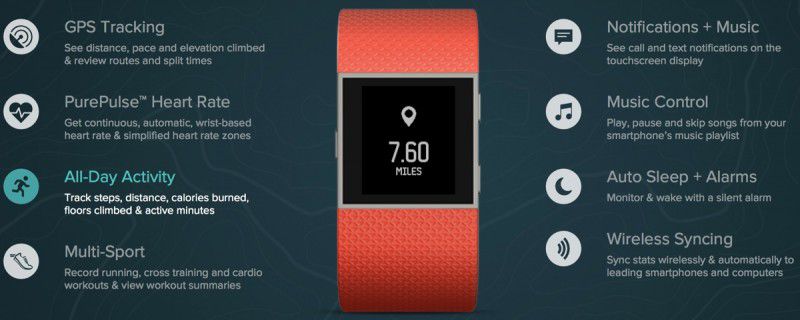 Available in Tangerine, Black, and Blue, the Surge has a black and white touchscreen display. Aside from tracking various activities, it also allows users to control their music and it includes customizable watch faces able to display incoming smartphone information like call and text notifications. It is not possible to answer phone calls or texts from the device, but its limited capabilities allow it to offer up to five days of battery life on a single charge.
Compared to Apple's upcoming Apple Watch, the Surge offers many of the same fitness capabilities, but cuts the vivid color display and the deep iPhone integration in favor of extended battery life. The device is also unable to offer many of the cutting edge vibration and pressure technologies built into the Apple Watch, but it is available at a lower price.
Alongside the Surge, Fitbit has also released two simpler wearable devices that are the successors to the
Fitbit Force
, the wearable activity tracker that Fitbit recalled for
skin irritation issues
. The Charge and the Charge HR take on the same design as the Fitbit Force, offering the same capabilities like monitoring sleep and tracking steps taken, distance traveled, calories burned, stairs climbed, and more.
Both devices are identical, but the more expensive Fitbit Charge HR includes a heart rate monitor that continuously measures heart rate much like the Surge. The standard Fitbit Charge does not include heart rate monitoring capabilities.
Earlier this month, Apple removed Fitbit's line of activity tracking devices
from its stores
and ceased selling the device. While it is unclear why the company pulled the activity trackers from its stores, the move did follow Fitbit's announcement that it had no plans to integrate with Apple's HealthKit and it comes ahead of the launch of Apple's own wearable device, the Apple Watch.
Though it no longer offers the Fitbit line of activity trackers, Apple continues to sell other fitness tracking devices like the Jawbone UP and the Nike Fuelband. It is unclear if Apple will continue to allow these devices to remain in stores or if it will cease selling all competing activity trackers ahead of the early 2015 launch of the Apple Watch.
Fitbit's standard activity tracker, the Charge, is
available for purchase
for $129.95. The Charge HR, which includes continuous heart rate tracking, will be available in early 2015 for $149.95, and the Surge, Fitbit's sensor-laden fitness wearable, will also be available in early 2015 for $249.95.