Jawbone today announced the third iteration of its UP wristband, which features an adjustable design and a number of new sensors that more effectively track sleep and physical activity.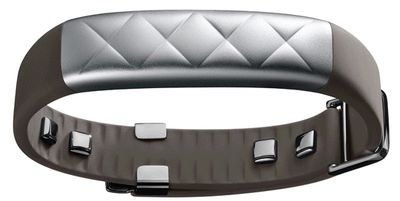 Jawbone has added a new tri-axis accelerometer, skin and ambient temperature sensors, and set of "bioimpedance" sensors that allow the UP3 to analyze a wide range of biometric data. The UP3 can measure resting heart rate and can track detailed sleep stages including REM sleep, light sleep, and deep sleep. The device can even identify the type of workout being performed and classify activities like tennis, running, cross-training, and more.
The UP3 uses the biometric data to power what Jawbone calls the "Smart Coach", which is a feature built into the UP app that keeps track of progress and makes suggestions based on a user's recent actions. For example, getting two hours of deep sleep causes the Smart Coach to inform the user about the extra energy they'll have during the day, while completing an extended tennis match triggers a reminder to rebuild energy by eating a meal. The Smart Coach also improves its suggestions as more activities is tracked and more tasks are completed on the UP3.
The UP3 also now features a slim design that can be adjusted to fit wrists of different sizes, and is made out of a durable aluminum material. Jawbone says the UP3 gets up to seven days of battery life and is water resistant. The Jawbone UP3 will be available later this year for $179.99 at the company's own website and will also be sold at Apple Stores and Best Buy locations. Jawbone is also launching the $49.99
UP Move
, which includes an accelerometer and support for Smart Coach functionality.