Samsung and Taiwan Semiconductor Manufacturing Company (TSMC) are still competing for the rights to produce Apple's next-generation A9 chip as a primary supplier is expected to be named by the end of this year, reports Digitimes.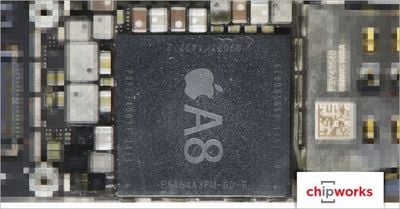 According to the report, Samsung has offered Apple lower pricing quotes in an attempt to secure the rights to produce the A9. The company is also willing to produce other chips like flash memory and perform optimization services in-house. Samsung was the longtime producer of Apple's A-series chips until Apple struck a deal with TSMC to produce its chips last year.
Last month, Samsung semiconductor head Kim Ki-nam announced that the company would begin work on 14-nanometer processors for Apple, indicating that the Korean company may have already won the bid to produce the next-generation A9 chip. However, it is also possible that both companies could share the production load as Apple looks to diversify its supply chain even further to better fit its production needs.
Last year, it was reported that Apple signed a contract with Samsung to handle 30% to 40% of total A9 chip production, as TSMC would be handling the rest of the production load. Apple's A9 chip would presumably be featured in next year's line of iPhones and iPads, as the iPhone 6 and 6 Plus currently use the 20-nanometer A8 processor. The iPad Air 2 uses a more powerful triple-core A8X chip which is up to 55% faster than the A8 chip found in the iPhone 6.