iPad Air 2 Up to 55% Faster Than iPhone 6, Up to 68% Faster Than iPad Air
A short time ago, we highlighted a new benchmark appearing to show an iPad Air 2 device carrying an A8X chip with a triple-core 1.5 GHz processor and 2 GB of RAM.
While we mentioned that the enhanced specs have led to huge performance gains compared to the A8 chip found in the iPhone 6 and 6 Plus, Primate Labs has now published a nice pair of charts showing just how dramatic this improvement really is, making the iPad Air 2 far and away the fastest iOS device ever.
The most striking improvement comes in the multi-score benchmarks, where the A8X with its three cores of processing power blows away the dual-core A8 found in the iPhone 6 and 6 Plus. As a result, the iPad Air 2 registers over 55 percent faster than the iPhone 6 and 6 Plus in the multi-core benchmark. Comparing iPad to iPad, the A8X in the iPad Air 2 measures 68 percent faster than the A7 in last year's iPad Air according to the multi-core benchmark.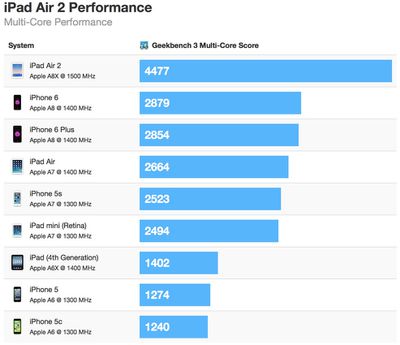 The iPad Air 2 also sets new high scores in the single-core benchmarks thanks to the 1.5 GHz cores in the A8X, with much of the nearly 13 percent gain over the A8 coming from the 100 MHz speed improvement compared the 1.4 GHz cores found in the iPhone and 6 Plus. The iPad Air 2 of course also compares favorably to the original iPad Air, with single core scores up 23 percent.