Samsung to Begin Work on Apple's 14-nm A9 Chips Before End of 2014
Samsung semiconductor head Kim Ki-nam today announced that the company will begin work on 14-nanometer processors for partners such as Apple, Qualcomm, and AMD before the end of 2014, reports ZDNet (via 9to5Mac).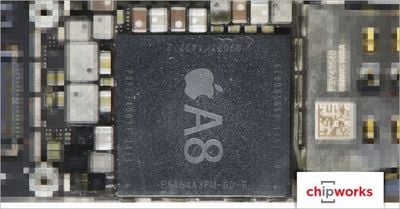 The comments indicate that Samsung will produce Apple's next-generation A9 chip to be used in next year's line of iPhones and iPads. Currently, the iPhone 6 and 6 Plus use the 20-nanometer A8 processor. It is also likely that the forthcoming iPad Air 2 and second-generation Retina iPad mini will utilize Apple's A8 chip.
The report also states that Samsung is producing around 30% of the total volume of Apple's A8 chip, while TSMC is handling 70% of the production load. Teardowns of the iPhone 6 and 6 Plus revealed A8 chips that were manufactured by TSMC, although it is possible that a select number of shipped devices contain chips produced by Samsung.
Last year, it was reported that Apple signed a contract with Samsung to handle 30% to 40% of total A9 chip production, while TSMC would be getting the rest of the production load. A report from August stated that TSMC was ahead of schedule with its new 16-nanometer process, which was said to be for Apple's A9 chip. However, these latest comments from Ki-nam may indicate that Korean company has already won the bid to produce the A9 with its upcoming 14-nanometer process over TSMC's proposal.