Sketchy Report Claims Apple May Discontinue iPad Mini to Focus on 'iPad Pro'
Apple may be planning to discontinue its iPad mini lineup in order to focus its efforts on the upcoming larger-screened "iPad Pro," according to a somewhat questionable rumor from Taiwan's Economic Daily News [Google Translate] (via GforGames). The site believes Apple will cease updating the 7.9-inch iPad mini next year, making the new iPad mini 3, released in October, the last tablet in the series.
A preference towards larger screen sizes, the introduction of the 5.5-inch iPhone 6 Plus, declining iPad sales, and "fierce competition" in the tablet market are said to have led to Apple's alleged decision to discontinue the tablet.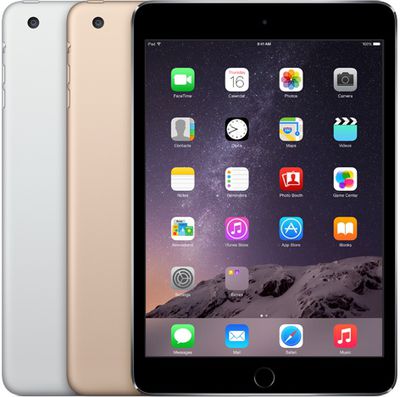 It was a bit of a surprise when Apple announced a major update to the iPad Air in October, introducing an upgraded A8X processor, Touch ID, slimmer form factor, improved camera, and more in the iPad Air 2, while the iPad mini 3 gained no new features aside from Touch ID support. Rumors have suggested that the relatively minor update was due to the iPad mini's lack of popularity compared to the 9.7-inch iPad Air.
Apple has been known to pull resources away from products that are not selling well. For example, Apple has been investing fewer resources in the iPod touch, a device that no longer receives regular updates. The fifth-generation iPod touch was released in 2012 and while the device received a major update at that time, only a few changes have been made since then, tweaking storage capacities and prices. It's possible the iPad mini could go the way of the iPod touch -- remaining in the product lineup but receiving few updates.
Economic Daily News, much like Taiwanese news site Digitimes, appears to have some solid supply chain sources, but lack of context and ever-changing production plans have resulted in some serious rumor misses. For example, the site said that the iPad mini 3 would be 30 percent slimmer when it launched, and suggested the larger iPhone 6 Plus would not be called an iPhone. Some accurate information has come from Economic Daily News, however, including several correct rumors pointing towards Apple Watch sizing and release dates.
Apple's "iPad Pro," which is said to be replacing the iPad mini as a companion to the iPad Air, is rumored to have a screen size between 12.2 and 12.9 inches. It's said to be slightly thicker than the iPad Air 2, coming in at around 7mm, and it may have stereo speakers and an ultra high-definition display. A release date for the iPad Pro remains unclear, as Apple was said to be targeting an early 2015 launch but pushed back production in order to focus on the iPhone 6 Plus.