Questionable Claim of 30% Slimmer 'iPad Mini Air' Launching in Late 2014
According to a new report from Taiwan's Economic Daily News, Apple's third-generation iPad mini will be an "Air"-like model, featuring a design that shaves 30 percent off the thickness of the device. This thinness along with a powerful new A8 processor will be among the main selling points for the next generation iPad mini, claims the Asian sources (via GforGames).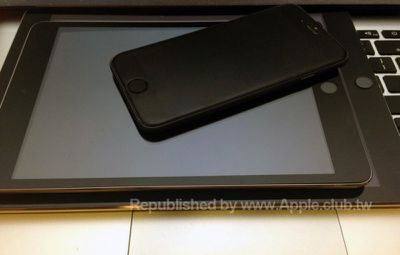 Mockups of the next generation iPhone, iPad Mini, and iPad Air from Apple.club.tw
While the sources of the rumor are given only as from the supply chain, the claim of a 30 percent thinner iPad mini seems to be an overly optimistic one. The original iPad mini measured 7.2 mm thick, and the device saw a slight increase to 7.5 mm with the move to a Retina display last year. The larger iPad Air moved in the opposite direction last year, slimming down from 9.4 mm in the fourth-generation iPad to match the Retina iPad mini at 7.5 mm.
A 30 percent reduction in thickness for the iPad mini would put it in the range of 5.25 mm, and how Apple would achieve such a reduction is unclear, especially given the increase in horsepower seen with the move to a Retina display last year. That move made the iPad Air and Retina iPad mini essentially identical with the exception of display size.
Apple is expected to release the updated iPad mini in the third quarter of 2014, likely following the iPhone 6 launch in September. Besides a possible thinner form factor and A8 processor, the next generation iPad mini also is expected to include a more durable Touch ID fingerprint sensor containing tin. Similar to the iPhone, the next generation iPad is expected to support iOS 8's new SDK that allows third-party developers to access the fingerprint scanner for verification purposes.
Besides the iPad Air and iPad mini, Apple is rumored to be expanding its iPad lineup with a larger 12.9-inch iPad. Dubbed the "iPad Pro," the larger model may not be released until 2015, claims DisplaySearch analyst David Hsieh. This prediction echoes a earlier report from KGI Securities Ming-Chi Kuo who also predicted a 2015 launch date for the oversized tablet device.