Nike CEO Hints at Continued Partnership With Apple to Develop Stylish Fitness Wearables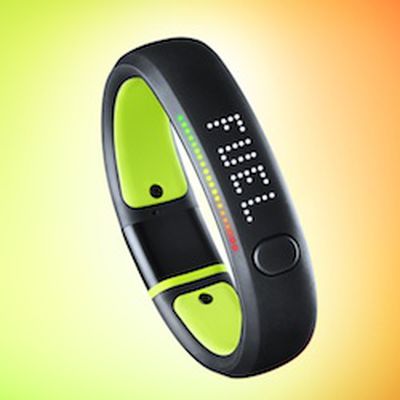 Nike CEO Mark Parker sat down with Bloomberg's Stephanie Ruhle to discuss the company's brand and product strategy (via The Guardian). During the 13-minute-long "Market Makers" segment, Parker confirmed that he is bullish on Apple and the wearables market, hinting at a continued partnership between the two companies at the 9:45 mark.
Though Nike recently discontinued further development on its FuelBand fitness wearables, the sports and fitness company is not ready to abandon the wearables market, instead waiting for the market to mature beyond it current geeky status.
"I think it's going to be a big part of the future, absolutely," said Parker. "I think the form it takes is critical. You can go from the very geeky kind of wearables today – we've all seen some of those – to what I think you'll see in the future, things that are more stealth, more integrated, more stylish and more functional, yes."
Echoing his earlier comments, Parker suggested Apple may be part of Nike's wearables strategy with the Nike CEO noting that the two companies that have a long history of working together can do things together they couldn't do alone.
"Technologically we can do things together that we couldn't do independently," Parker said. "So yeah, that's part of our plan, to expand the whole digital frontier in terms of wearables, and go from what we say is tens of millions of users – right now there's 25 million Nike+ users – to hundreds of millions."
Parker wouldn't divulge details on any upcoming Apple-Nike collaborations, but the companies traditionally have worked together to promote each other's health and fitness technologies. Apple
has sold
the FuelBand fitness bracelet in its retail stores, while the
Nike+ Move
app
was among the first
to support the M7 motion co-processor in the iPhone 5s.
The fitness partnership between Apple and Nike actually extends back to 2006 with the launch of Nike+iPod products such as the "Sport Kit" that allowed users to embed sensors in Nike shoes to wirelessly communicate exercise information to the iPod nano. Parker also has a long-term relationship with the Apple's leadership, having worked closely with both Steve Jobs and Tim Cook, with Cook having served on Nike's Board of Directors since 2005.