Nike+ Move, First Introduced M7 Coprocessor-Integrated App, Launches in App Store
First announced at Apple's September 10 media event alongside the iPhone 5s and its M7 motion coprocessor, the Nike+ Move app has launched in the App Store, allowing iPhone 5s users to get enhanced statistics daily about their physical activity.
The new app was the first introduced to take advantage of the M7 coprocessor and new CoreMotion APIs in iOS 7, allowing it to track more reliable and accurate movement data in the background, even when the phone is asleep, while also conserving battery life. The app then takes all the movement data it gathers and converts it into NikeFuel, the fitness company's measuring unit for physical activities, and uses it to motivate a user to keep exercising.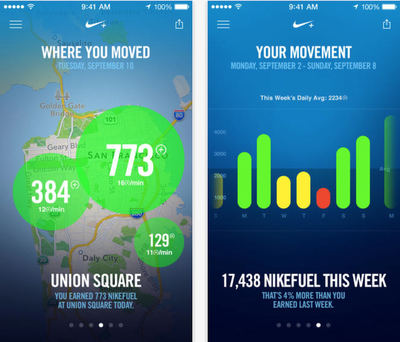 Nike+ Move offers insight into when you move, how you move and where you move - and lets you challenge your friends to see who moves more.

-Win the day by beating your NikeFuel average and watch your goal ring change from Red to Green.
- See when you are most active throughout the day and how you're doing compared to yesterday.
- Move more often and win as many hours as you can throughout the day.
- See how you moved through the day with a breakdown of running, walking, and other movement.
- See where you're moving and where you move the most each day.
- Check out how you compare against your Game Center friends or other Nike+ Move users near you.
While Nike+ Move isn't the first app to integrate the M7 coprocessor, it is the highest profile app to take advantage of the new processor onboard the iPhone 5s. Apple is planning to take advantage of the M7 in future software updates by leveraging it to improve iPhones' mapping and location services.
Nike+ Move is available only for the iPhone 5s in the App Store for free. [Direct Link]